Scrum Event & AWA with Zuzana "Zuzi" Šochová (CST) presents: The Great ScrumMaster
March 5 @ 6:30 pm

-

9:00 pm
Scrum Event & AWA with Zuzana "Zuzi" Šochová (CST) presents: The Great ScrumMaster
In partnership with "Adventures With Agile" we bring you Zuzana "Zuzi" Šochová all the way from Prague and the Czech Republic on a special visit to the UK.
Zuzi will enlighten us on some of the secrets you need to know to become a Great ScrumMaster. How to create a high-performing collaborative environment for your organization, which makes your organization more than just competitive in our complex globalized world.
This session is targeted to all leaders of Agile transformation, Agile Coaches, and ScrumMasters who understand the Agile basics but have a dream of achieving significantly better results with Agile/Scrum.
Zuzi's session is based on her book The Great ScrumMaster, published by Addison-Wesley, Signature Series (Cohn) on Jan 2017.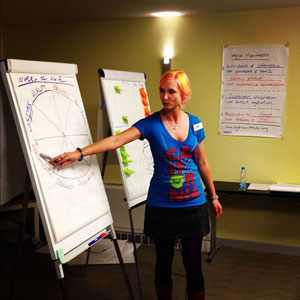 About Zuzana "Zuzi" Šochová:
Zuzi works as Agile coach and trainer for both large and small organizations. She is Certified Scrum Trainer (CST) by Scrum Alliance. She has over 15 years of commercial experiences in IT.  She is the author of a popular book The Great ScrumMaster – #ScrumMasterWay (Addison-Wesley, 2017).
Agenda:
18:30 – 19:00: Arrivals
19:00 – 19:10: Introductions
19:10 – 20.00: Session Talk
20.00 – 21.00: Networking & Pizza
Venue Sponsor:
Hosted by Skills Matter who has graciously let us use their space for this event.
Don't forget to SIGN UP with Skills Matter for faster access and a proper name badge on the day here: https://skillsmatter.com/meetups/10612-scrum-event-and-awa-with-zuzana-zuzi-sochova-cst-presents-the-great-scrummaster
Our community thanks you.
Cheap CSPO course:
Zuzi herself is running some low-cost CSPO courses only for self-payers at £600 + VAT with Adventures with Agile.
For non-self payers (corporations) we have a discount code from AWA of SCRUMEVENT2018 for 10% off that price.
Our community thanks you.
We're a Scrum Alliance endorsed User group:
This event will earn Scrum Alliance SEUs worth 2 SEU's